LOOKING FOR LIVING ROOM PAINTINGS ?
Check our comprehensive guide on how to select paintings
for your living room
SHOP PAINTINGS BY CATEGORY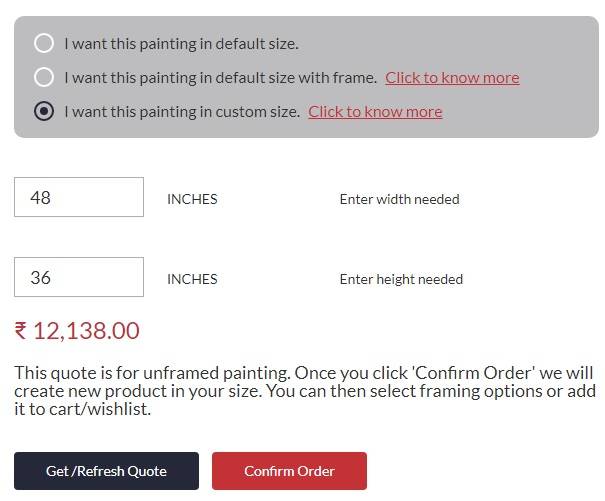 Just enter in the size you need, get instant quote and place order. Can it be any simpler ?
Fizdi is the only store in the world to offer customized sizing option for handmade paintings on the fly. Search for this option on artwork page.
Our artists will creatively recreate the painting in your size by hand. Maximum customizable size is 10ft X 10ft. For bigger sizes than this please contact us.

Canvas Prints are customizable in the same proportion as original size. Maximum size allowed is 56in x 200in.

Over 6000 artworks are available with size customization option. Our prices are undoubtedly the lowest - even for customized art !
We have sold art to tens of thousands of end-customers, hotels, companies, interior designers, architects & government institutions. Some of them are listed below.
INDIAN ARMY, NAVY & AIR FORCE (VARIOUS DEPTS)