Our best artworks of high quality at unbelievably low prices. You simply can't resist them.
SHOP PAINTINGS BY CATEGORY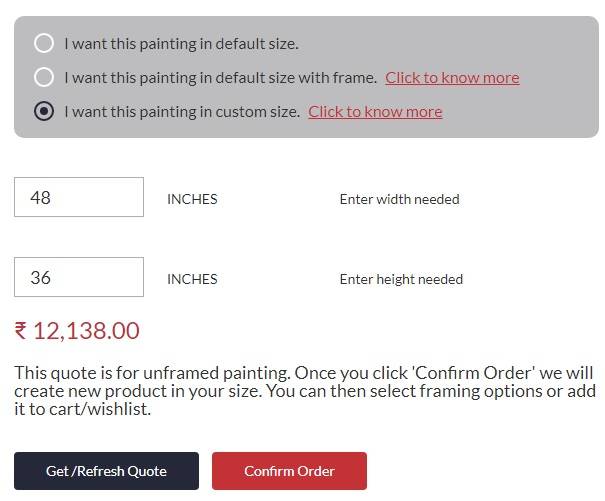 Just enter in the size you need, get instant quote and place order. Can it be any simpler ?
Fizdi is the only store in the world to offer customized sizing option for handmade paintings on the fly. Search for this option on artwork page.
Our artists will creatively recreate the painting in your size by hand. Maximum customizable size is 10ft X 10ft. For bigger sizes than this please contact us.

Canvas Prints are customizable in the same proportion as original size. Maximum size allowed is 56in x 200in.

Over 6000 artworks are available with size customization option. Our prices are undoubtedly the lowest - even for customized art !
Fizdi has been India's most trusted store for modern and affordable art since 2009. We have more than 25000 curated artworks on various subjects and themes from over 5000 artists and art galleries. We have served over 150000 happy customers in India & worldwide. We also offer Framing, Commissioned Art, Portrait and Photo-to-Painting services online. We believe in offering high quality artworks at affordable price - supported by stellar customer service.
Amazing experience right from the painting options on the website, the customer service updates and the delivery options. Really happy with the service and will be using the services again in the future. Thanks.
Excellent quality of painting and really low price. Awesome customer care support.
Excellent painting. I am impressed by the meticulousl packing. I will certainly order more the mounting and frame is exactly what I had in mind
Your service was excellent! Both Ashwini and Pooja were very helpful and went a long way to satisfy us. A big thank you!

The product quality was good enough after it was adjusted to suit our taste with muted colours.
Amazing paintings. I've never seen such an online collection in my life. To add to that, option to customize the size and frames. And on-time delivery, as promised. I'm really impressed! Keep up the good work!
The painting is very nice as was dreaming for... Staff is very helpful and tries to understand every need.
I received the painting today and it is absolutely mind blowing, just the way we imagined it would be in the picture. Me and my wife, we both really want to thank the artist, She/he is genius. We would definitely like to know more about the artist (name, paintings etc) but more than that we would like you guys to pass our regards and keep doing the awesome work!
I had requested Fizdi for customization of two of the painting. Customization has been done brilliantly with great precision. Also no details of the paintings have been missed. Fizdi ensured delivery of paintings as promised.
The Painting was awesome, hand-painted on a canvas. Got the certificate of authenticity signed by the Artist. It was delivered to USA in 7 days after the order was placed and was updated about the shipment constantly.
We have sold art to tens of thousands of end-customers, hotels, companies, interior designers, architects & government institutions. Some of them are listed below.
ADANI PORTS & SPECIAL ECONOMIC ZONE LTD.
BIRLA FURUKAWA FIBRE OPTICS
STUDIO PEPPERFRY LUXURIA BUSINESS
INDIAN ARMY, NAVY & AIR FORCE (VARIOUS DEPTS)