PORTRAITS ONLINE, PERSONALIZED PAINTING FROM PHOTO
Our artists paint your image completely by hand on canvas, using various colors like oil, acrylic, charcoal, pencil etc. You get beautiful, handmade-painting like result signed by the artist. We usually ship within 5 to 12 days depending upon the style chosen.
Our artists digitally paint your image on computer. We then print the final outcome on canvas. Use of digital techniques ensures that you get beautiful results with accuracy, that is otherwise not possible by hand. We usually ship within 2-4 days for all styles.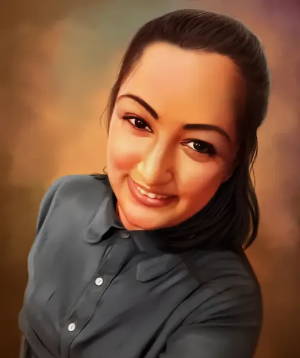 NOW GIFT PORTRAITS BY EMAIL
Now get portrait image file delivered to you by email instead of physical print on canvas. Our artists will digitally prepare the portrait from your photograph on computer, and deliver the same in soft copy (JPG, and PDF). No shipping required. The process is extremely quick and 48 hours delivery is guaranteed. You can then use this image to gift to your friends and family. An extremely thoughtful gift in COVID19 times, and when you need it urgently.
Why order portraits from us ?
| | | |
| --- | --- | --- |
| | | |
| High Accuracy of Photograph to Painting | Framing Options Available | 10 years+ experienced artists & designers |
| Free editing of photos to remove unwanted backgrounds etc | Top quality prints on canvas for a long life for digital portraits. | Quick Delivery - 1 to 5 days for digital portraits |
| Lowest price starting only Rs. 1990 ($29) | Free Shipping in India. Only $20 for other countries | |