Process of Ordering a Custom Sized Painting or Print
Please follow screenshots below to understand how to order an artwork in custom size. If this option "I want this painting in custom size" is not seen, then please email us the product code (SKU) of the artwork and the size needed to sales@fizdi.com. We will then connect to artist to check feasibility.
Step 1. Check if the artwork is customizable or not

To check if the artwork is size customizable or not, find below section at right of the artwork image (in case of desktop) and at bottom of the artwork image (in case of mobile and tablets). Then click on option "I want this painting/print in custom size". In case this entire section is not seen - it means that the artwork is single edition and can't be customized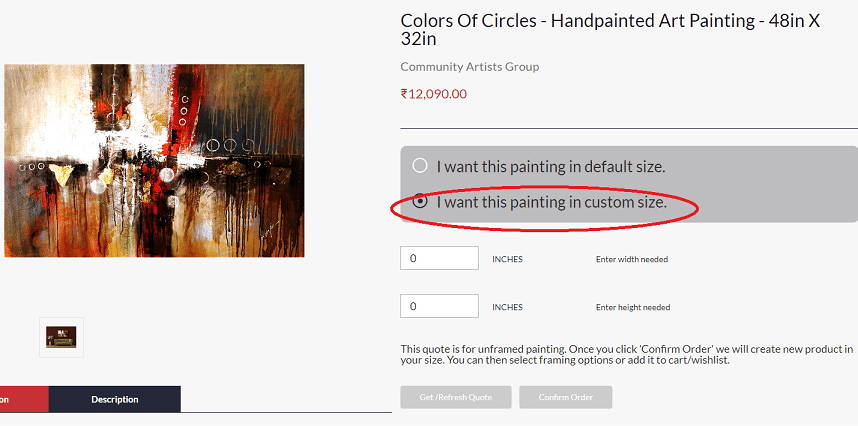 Step 2. Enter the size you need

Enter the width (horizontal length) and height (vertical length) you need and click "Get Quote". The system calculates the price and displays the same.
Step 3. Confirm your order

Once you check that the quote is ok for you, you can click on Confirm Order. Please wait for few secs after you click. System will create a new product in your size as shown in image below. You can also select frame for if needed, add to cart and proceed for checkout..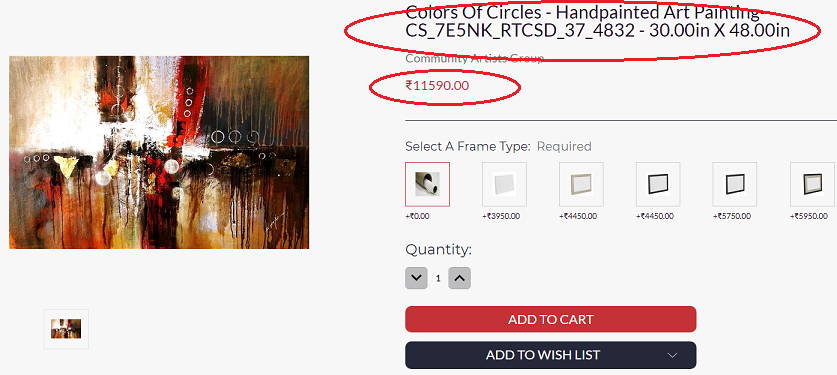 Step 4. Sit back and relax

All completed customized artworks go through stringent quality checks. Artists are asked to revise the painting in case any details are missed out. Our team ensures you get the perfect quality painting you dreamed for. Please bear in mind that customized handmade artworks would have 80-85% similarity to displayed image, and 15-20% uniqueness in itself. We would not be able to provide images of customized paintings after they are completed owing to operational burden, which the customer must note.
We have highlighted few differences between handmade painting recreation and digital printing for your easy reference. Please note our handmade paintings collection is not available for digital printing in custom size, and vice versa.
Handmade Painting
Digital Print

Artist recreates the painting entirely by hand from scratch

Digital file is adjusted to the size you need and passed for printing

Your custom size need not be in exact proportion as the default size. Our artists would reimagine and fit the elements well without disturbing the soul of the painting.

Width and height needs to be in proportion. If you enter the width - system will automatically calculate the proportionate height and vice versa

If you need the artwork in a very particular size, it is better to choose from handmade paintings

If there is some flexibility in the size you need, you can also opt for digital prints. Besides they are affordable too

Maximum size possible is 10ft X 10ft (120 inches X 120 inches)

Either of the width or the height needs to be less than or equal to 56 inches. The other side can be of any length.

As the recreated painting would be completely handmade, it would be 85% similar to the original image and 15% unique in itself

Reprinted Digital prints would be same as the original images

Paintings are delivered within 7 days to 15 days depending on the size and complexity of the artwork.

Resized Digital prints are delivered within 2-4 days